What is SUPP?
The Student Union Perks Program was created to incentivize students to attend events and for students to use the resources they have access to. Students are not only able to use the resources provided by the Student Union but they can also win points while doing so. SUPP is a great way for students to get involved and engage with both the Student Union and other students on campus/virtually.
How to Win Points?
Any student that attends CSU Channel Islands is welcome to join the program. Every time a student checks out a resource, goes to an event, or uses any service the Union provides, the student will receive points that they can redeem at the end of the semester/year. Members are awarded points as follows:
2 points for following the Student Union Instagram page (one-time only; must be verified by SU staff).
20 points for attending virtual Student Union events (must sign in to receive points, one event per day), or other Student Union activities
15 points for attending SUPP sponsored virtual Student Government events, Student Programming Board events, CI View events (must complete proper registration provided for appropriate event to receive points).
10 points for attending SUPP sponsored and Campus wide hosted virtual events (must complete proper registration provided for appropriate event to receive points).
For same day events, points will be awarded for one event, and 5 bonus points for each additional event attended that day).
Points will be tracked by the student supervisor running the program.
Points expire at the end of the current semester.
SUPP Prize Redemption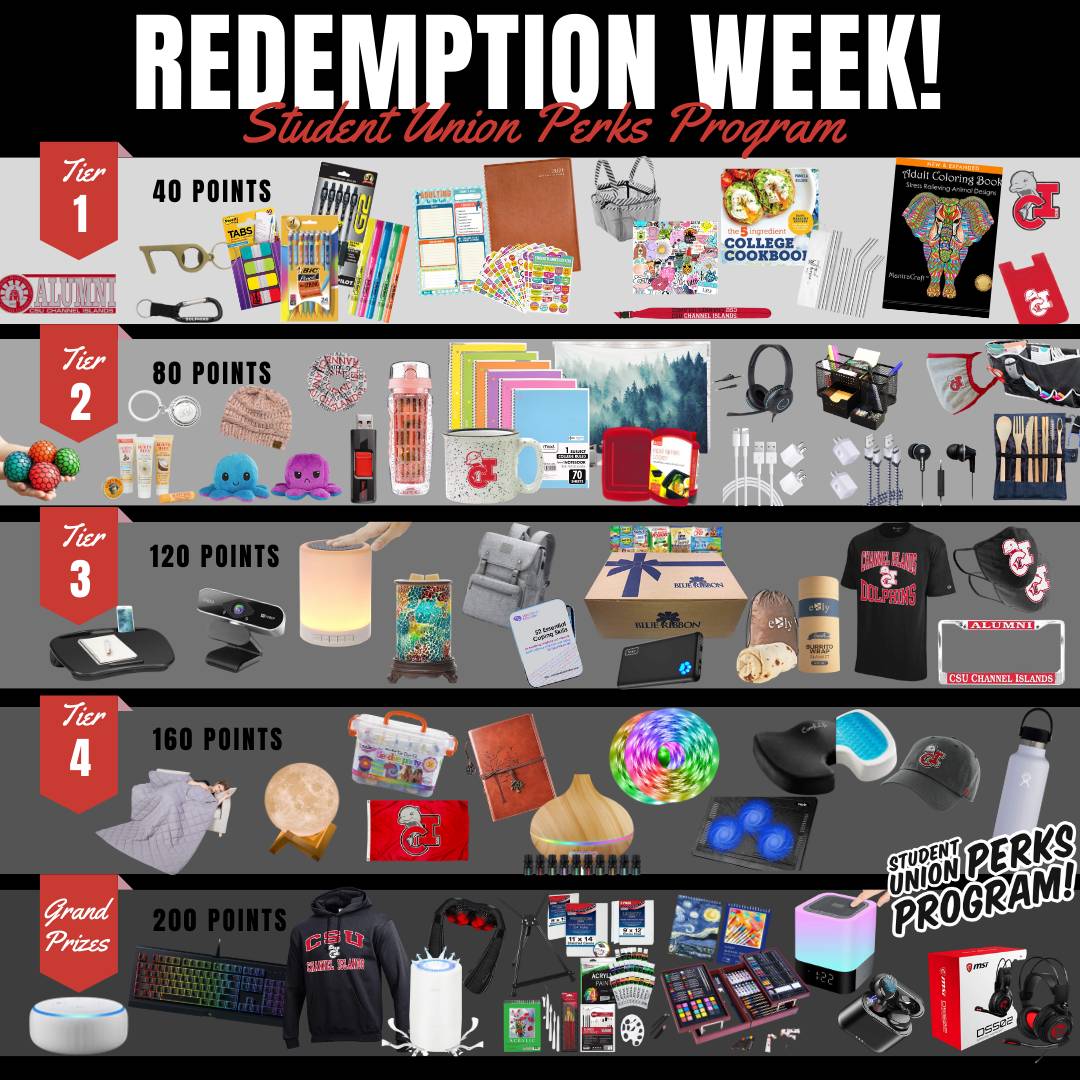 Tier 1 (40 Points): CSUCI Carabiner Keychain, CSUCI Lanyard, CSUCI Magnet, CSUCI Silicone Card Wallet, CSUCI Alumni Decal, No Touch Key & Ring Door Opener, 2021 Planner, Student Planner Stickers, Adulting Notepad (To Do List), Reusable Straws, Shower Caddy, College Cookbook, BIC Mechanical Pencils, Post It Tabs, BIC Highlighters, Pens, Stickers, Adult Coloring Book
Tier 2 (80 Points): USB 64 GB, Earbuds w/ Mic, Headset w/ Mic, Bamboo Cutlery Set, CSUCI Keychain, Rapid Ramen Cooker, iPhone Charger, Android Charger, CSUCI Mug, Stress Balls, Octopus Reversible Plushie, Fruit Infuser Water Bottle , Mead Spiral Notebooks - 6 Pack, Desk Organizer, Side Bed Organizer, CSUCI Face Mask, CSUCI Scrunchie, Burt's Bees Essentials Gift Set, Wall Tapestries, Beanie
Tier 3 (120 Points):CSUCI Face Mask (2 Pack), CSUCI Shirt, CSUCI Alumni License Plate Frame, Webcam, Laptop Lap Desk, Backpack, Snack Care Package, Coping Skills Cards, Bluetooth Speaker, Burrito Blanket, Portable Charger, Wax melt Warmer
Tier 4 (160 Points):Hydro flask, CSUCI Hat, CSUCI Flag, Leather Writing Journal, Tie-Dye Kit, Memory Foam Cushion, Moon Lamp, Weighted Blanket, Laptop Cooler Fan, LED Lights, Diffuser & Essential Oils
Grand Prizes (200 Points): CSUCI Hoodie, Wireless Earbuds, Bedside Bluetooth Speaker, Air Purifier, Echo Dot, Headset, Gaming Keyboard, Art Set, Painting Kit, Neck Massager
JOIN US
Contact Us
Any questions or suggestions please let us know how we can assist you!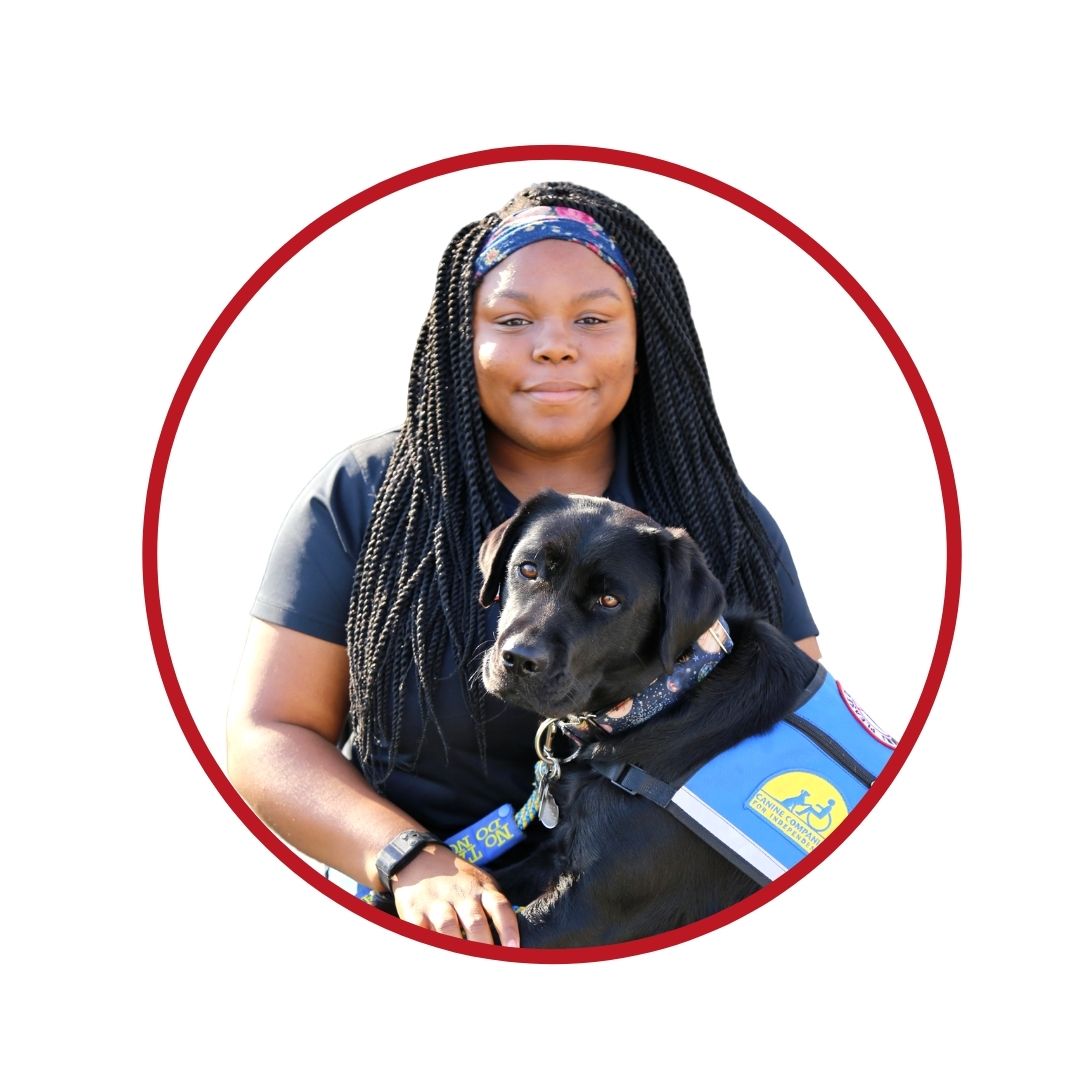 Leizelle Mitchell
Student Union Reservations & Events Supervisor 
leizelle.mitchell568@csuci.edu