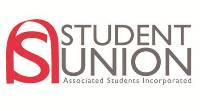 Welcome To The Student Union!
We are glad you are here!
The Student Union serves to foster community and enhance student learning and development on the CI campus by providing exceptional services, supporting holistic programming, creating regular opportunities for staff development, and maintaining an environmentally responsible facility.
In an effort to accelerate social distancing for students and employees,
the Student Union is currently CLOSED until further notice.
---
Let us know what you think!
Please let us know your thoughts and suggestions on how to improve your Student Union experience by emailing Student.Union@csuci.edu.